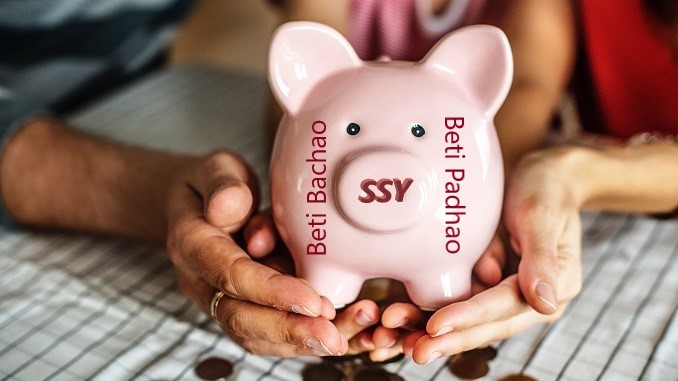 Sukanya Samriddhi Yojana Account (SSY Account) is a Government of India saving scheme targeted at the parents of girl children. Literal translation of the scheme name means Girl Child Prosperity Account.
Sukanya Samriddhi Yojana was launched by Prime Minister Narendra Modi on 22nd January 2015 as a part of the Beti Bachao, Beti Padhao campaign. The scheme encourages parents to build a fund for the future education and marriage expenses for their female child. SSY account can be opened at any India Post office or branch of authorised commercial banks.
Investment Limit
Minimum limit : Rs 250 per year per girl child (minimum deposit per year was Rs 1000 till 31-Dec-2017)
Maximum limit : Rs. 150,000 per year per girl child
Interest compounding frequency
Interest payable on Sukanya Samriddhi Scheme account is compounded on annual basis.
Interest Rate
Sukanya Samriddhi Scheme account was launched in Jan 2015 and initially the interest rate was set at 9.1% for FY 2014-15. In late March 2015 the rate of interest for SSY Account was revised to 9.2% for FY 2015-16. From FY 2016-17 onwards government has decided to notify interest rates for small savings schemes on quarterly basis.
Given below is the applicable interest rate for Sukanya Samriddhi Scheme account since its inception:
| Period | Start Date | End Date | Interest Rate |
| --- | --- | --- | --- |
| FY15 | April 1, 2014 | March 31, 2015 | 9.10% |
| FY16 | April 1, 2015 | March 31, 2016 | 9.20% |
| FY17-Q1 | April 1, 2016 | June 30, 2016 | 8.60% |
| FY17-Q2 | July 1, 2016 | September 30, 2016 | 8.60% |
| FY17-Q3 | October 1, 2016 | December 31, 2016 | 8.50% |
| FY17-Q4 | January 1, 2017 | March 31, 2017 | 8.50% |
| FY18-Q1 | April 1, 2017 | June 30, 2017 | 8.40% |
| FY18-Q2 | July 1, 2017 | September 30, 2017 | 8.30% |
| FY18-Q3 | October 1, 2017 | December 31, 2017 | 8.30% |
| FY18-Q4 | January 1, 2018 | March 31, 2018 | 8.10% |
| FY19-Q1 | April 1, 2018 | June 30, 2018 | 8.10% |
| FY19-Q2 | July 1, 2018 | September 30, 2018 | 8.10% |
| FY19-Q3 | October 1, 2018 | December 31, 2018 | 8.50% |
| FY19-Q4 | January 1, 2019 | March 31, 2019 | 8.50% |